TES Members $20
Non-Members $30
THIS IS AN EXCLUSIVE TES PARTY.
Attendees must show valid membership card.
If you are not already a TES member, become one today! 
In order to attend this party you must be:
– a TES member
– the guest of a TES member
– an affiliate organization member
– the guest of an affiliate organization member
– an attendee of the pre-party munch at Moonstruck arriving with the munch leaders
Our pre-party munch is a GREAT way to meet people in a low-key, non-kinky setting. You'll find more info about it here!
Dress: Fetish wear, lingerie, all black, a gorilla suit – whatever is comfortable!
Once you've had your fill of chocolate and rose petals, we bet you're ready for a taste of the thorns. Come celebrate cardiac fetishization with TES at our My Bloody Valentine Party on February 25th!
In addition to all your favorite Parthenon accouterments (including 3 of the best suspension rigs in town, 2 thrones, 1 amazing bondage bed, and numerous crosses, cages, 2 vintage birthing chairs, and spanking furniture galore) we'll be hosting a guest vendor so you can add to your toy bag, as well as offering TES-branded pervertables, such as wooden slappers and clothes pins.
Ian_Michaels of Fetissage will be vending at the party.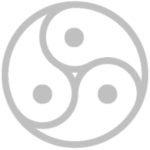 Looking for a special playdate for the party? Check out the playdate thread on the TES FetLife Group page and chat with others who are also looking for playmates.
OR!
Put a note on the Bloody Valentine Wish Board during the party saying what kind of activity you're interested in, and maybe your bloody valentine will find you!
As always, TES is a volunteer-based organization, and great events like this can't happen without you! If you are a member, please consider volunteering your time as a Door Person, Dungeon Monitor, or member of the setup and cleanup crew. Those volunteering at least 1 hour of their time may attend the party for half price, and those volunteering 2 hours get in free!

To volunteer, please contact Zero at zero@tes.org!