Welcome to The Eulenspiegel Society (TES), a non-for-profit BDSM/Leather/Fetish group dedicated to the social interaction, educational exchange, and ever-changing diversity of our community. TES organizes regular classes, workshops and events in the NY tri-state area. We host 2 educational meetings every week, and occasional weekend workshops, totaling nearly 100 classes per year. These classes include lectures, demos, panels, and hands-on workshops offered by a diverse range of presenters.
In Memoriam: Pat Bond, Founder of TES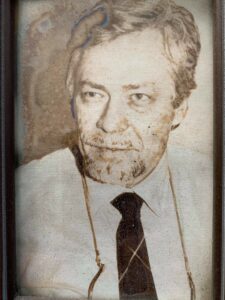 On February 13th, 2021, TES founder Pat Bond passed away at the age of 94.
Pat Bond was born in St Petersburg, FL as Walter Allen Campbell on May 24, 1926. In addition to being a musician he was also a composer and teacher.
Pat Bond founded The Eulenspiegel Society in 1971 as a small support group in his Manhattan apartment.
Bond placed an ad in Screw magazine in December 1970, reading:
"Masochist? Happy? Is it curable? Does psychiatry help? Is a satisfactory life-style possible? There's women's lib, black lib, gay lib, etc. Isn't it time we put something together?"
The ad also ran in the East Village Other. Fran Nowve, using the name Terry Kolb, was the first person to answer the ad. She and Bond began The Eulenspiegel Society in 1971, and Nowve came up with its name.
Bond had been in declining health over the last few years and succumbed to old age at his home in New York City.
He had no children, but three nieces and a nephew and was a father of the heart to Brother Leo's two sons and two daughters.
We at TES are very saddened by this loss and thankful for what he started five decades ago.
We invite the community to share their remembrances of Pat here. In lieu of flowers, the family has requested donations be made to either the ACLU or Medecins sans Frontieres in Pat's name.
TES Needs Your Support!
As a not-for-profit, part of TES's mission is to provide kink education in a welcoming, judgment-free, and confidential environment. During the COVID-19 pandemic we have endeavored to bring online programming to the wider BDSM community free of charge, and we are grateful that we've been able to continue providing space for kinksters near and far to come together and thrive. However, we now need your help.
We at TES were heartbroken to have to cancel in-person programming due to the pandemic and resulting shutdown. During this stressful time, TES stayed committed to keeping our class content accessible. Instead of charging our usual class admission fees*, our online-only classes have been free since April 2020.
As the pandemic, and its resulting restrictions, drag on, our finances are beginning to stretch thin. In addition to losing funding from regular class fees, we were forced to cancel TES Fest 2020. As our largest event of the year, TES Fest not only offers our attendees a full weekend of education and play, but represents the biggest contributor to our annual operating budget.
While we've managed things so far by tightening our (leather) belts, we were recently informed that, due to matters beyond our control, our on-site storage for our bespoke kink furniture and other TES Fest equipment was no longer available. As a result, we've been forced to move all our equipment on extremely short notice. Due to the pandemic, we didn't feel it appropriate to ask our usual volunteers for help with moving. As a result, we needed to secure a new storage and had to hire movers with professional-grade PPE and strict safety protocols at a cost of several thousand dollars. We're happy to say things are now safe in their new home, though the expense of doing so has been a significant financial setback.
Since 1971 TES has provided education, arranged social activities, and given kinky people a place to be their true selves. We are now humbly asking our community to contribute to our GoFundMe to help us keep both TES and TES Fest financially viable.
If you're able, please consider supporting us so that we can continue to serve our community and bring back TES Fest 2021 better than ever. As an additional thank you, anyone contributing over $50 will also be given a one-year membership.
But that's not all! Our friends at Dating Kinky will donate $2.50 of every new PLUS Member they get in the month of December. Even better, for anyone who donates at $10 or more to the TES GoFundMe AND signs up for a Dating Kinky PLUS membership ($5 purchase) will receive a FREE bonus month of PLUS! Those who are existing PLUS members will have an extra FREE month added onto their current membership. In order to redeem, user will have to provide screenshot of GoFundMe confirmation email (with wallet info redactions) showing proof of TES donation when signing up.
In leather, latex, and love,
The Eulenspiegel Society (TES)
*Sliding scale available for those who need it.
CLICK HERE, FOR MORE INFORMATION ON OUR UPCOMING PROGRAMMING.
If you're interested in teaching a class at TES, please fill this out.
Special Interest Groups (SIGs) schedule regular meetings on topics that pertain to their Interest. There have been many different Groups at TES over the years, covering many different Interests.
CLICK HERE, FOR MORE INFORMATION ON OUR GROUPS.
Brand new to kink or to the NYC scene? TES also hosts regular parties, social activities and munches — Join us at The Novice and Newcomers Munch! Held every month, this is a great opportunity to meet and mingle in a laid-back atmosphere, before heading out to a party together.